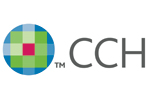 MCQ International was selected by CCH Australia, the country's leading provider of corporate informational services, to re-develop a series of online compliance assessment and training programs. A key requirement was that the program contents needed to be customisable for individual clients and that the system facilitated regular updating of content.
Integrated Content & Platform Design
CCH Australia had developed a suite of compliance assessment and training packages to corporate clients. MCQI was selected to help re-develop existing courses that had become outdated in their style and limiting in terms of their ability to be customised for particular client needs. The solution MCQI devised for CCH included a custom version of the Ensignia® Learning Resource Management System with administration features built directly in to the platform that specifically support CCH's content. With this solution, CCH Australia was able to offer a range of easily customisable packages, without needing its own technical staff or having to rely on MCQI to set up and maintain client accounts.
Part of the MCQI solution was a custom-built account creation and management system that was developed specifically for CCH Australia. This system was built atop Ensignia's regular account management tools and provided a wizard-based interface that supported CCH's own business processes. For example, when setting up a new account, CCH sales staff could upload a copy of the client's corporate logo. This logo would then be inserted into course content pages, so that the client's branding is incorporated into CCH's content. Other details, such as course licence numbers, expiry dates, etc., were designed to be configurable to facilitate account management.
Advanced Content Maintenance Tools
CCH's compliance courses were designed to be sold on the basis that they contain the most up to date and comprehensive regulatory and legislative information available. As such, it was essential that CCH would be able to easily and quickly manage the need to maintain content on offer. Ensignia's built-in Learning Content Management System could be used by CCH to modify, publish and distribute updated content to its clients. A template-based authoring system with What-You-See-Is-What-You-Get editing features could ensure a consistent, high quality to content created or modified by non-technical CCH staff.
Real-Time Management Reporting and Automated Monitoring
A key to any successful compliance program is the ability for real-time monitoring and reporting of user results. CCH's platform was able to take advantage of Ensignia's standard reporting capabilities to offer tools and reports to its clients that allow managers to keep track of compliance needs and staff compliance. The system even automated email alerts to notify users when a required compliance activity is due to be started, or warnings if a task has not been completed on time.