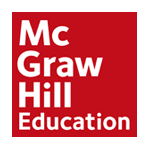 MCQ International partnered with McGraw-Hill Education to deliver online assessments for tertiary and secondary students. Together we introduced to Australia the first Web-based study quiz resources that accompany textbooks, under the brand of MaxMark™.
Online Quizzing for Interactive Study
McGraw-Hill's MaxMark range of textbooks were among the first in the world to offer online interactive study guides and quizzes to complement textbook content. These extremely popular quizzes were designed to be structured with a quiz topic for each chapter of text, so students can work through the online quizzes as they work through the textbook. For students, each quiz acts as an online interactive study guide, providing them with revision of textbook material and guidance on their areas of strength and weakness.
Advanced Assessment Features
Apart from the standard advantages of online assessment delivery (such as accessibility, immediate results, rich content etc.), the MaxMark products have many additional advantages made possible by MCQI's technology. One of MaxMark's key differentiators was that its content was written specifically with extensive feedback in mind. Each question comes with two levels of feedback: the first basic level indicates the solution and a brief explanation, and the second provides a much more comprehensive explanation. For many students, the brief feedback will suffice, but for those who still need more guidance, the second level is available. Each question is also cross-referenced to relevant pages in the textbook to assist with further study. In addition, every quiz topic contains a large pool of questions and each time a student starts a quiz, they will be randomly presented with a different subset from this pool. As each new quiz attempt covers new material, students are motivated to return and study more. Students can compare their current performance against their historical results, so they can see their own improvement over time.
Large Scale and Reliable Delivery
Each year, over 170,000 students logged in to complete MaxMark assessments, making the service one of the most-used educational online resources. The site was designed to support a very broad range of web browsers and places low technical requirements on students' computers so that accessibility is maximised. MCQ International provided and managed the technical infrastructure, including monitoring the site around the clock. We have consistently delivered over 99.99% service availability, with students logging in 24 hours a day.